Liquefied Gases
Road Tankers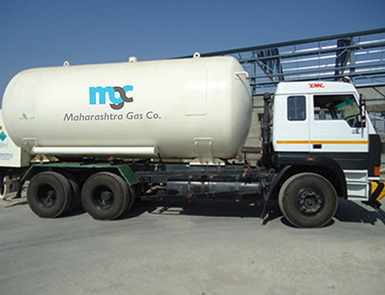 Porta Cryo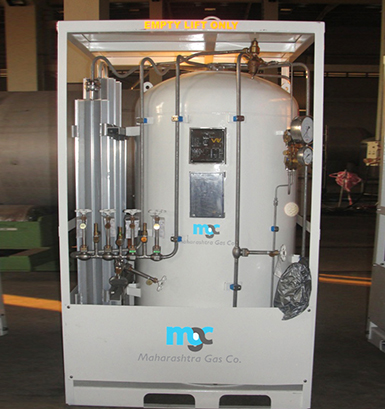 Similar to dura cylinders but for higher production as they are equivalent to approx 100 oxygen cylinders ...
Portacryo advantages:
No stocking of cylinders and no movement and handling of cylinders so also risk in storage of high pressure cylinders is eliminated.
No requirement of high pressure regulators to reduce cylinder pressure since the flow will be of constant and low pressure.
Dura-Cyl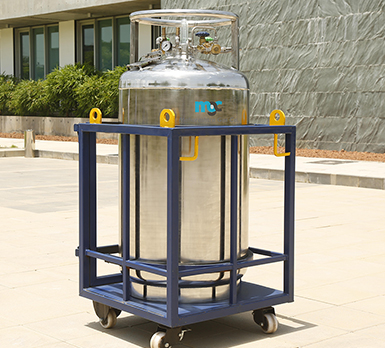 The Dura-Cyl is a premium transportable liquid cylinder for cryogenic service. Dura cylinders are vaccum insulated liquid gas cylinders which allows storage of cryogenic gases like oxygen, argon, nitrogen at a very low temperature ranging From -183deg c To -196 deg c.
Dura-Cyl Advantages:
Ideal for liquid nitrogen, oxygen, argon, CO2 or nitrous oxide
Different sizes, pressure, and features to meet your needs
Stainless steel bottle construction
We are into Dura cylinders since 2010 and we advise any company using more than 20 Cylinders a month can change to Liquid Cryogenic Cylinders(Dura cylinders ) and get following benefits provided they require low pressure and cylinder is used in a closed and a even surface flooring environment.
SAFER
BETTER QUALITY GAS – since its ltg
LESS SPACE REQUIREMENT FOR STORAGE AND USE
LESS CYLINDER TURNAROUND STOPPAGE TIME
MORE PRODUCTIVITY – QUALITY PRODUCTION
UNLIKE BULK CRYOGENIC TANK, IT CAN BE USEd FOR LESSer REQUIREMENTS WHERE QUALITY IS a REQUIsite
Delivery of Gas at constant pressure.
Cryocans / Liquid Nitrogen Cans / Dewars
Liquid Nitrogen Containers also known as cryocans ,is used in storage of semen samples , labs ,liquid nitrogen churned ice creams ()which is getting really popular these days and we have already sold these to ice cream makers in dozens in 2016) , Preservation of blood samples. Cryocans are extensively used in the areas of Biotechnology, Animal Husbandry, Hospitals and laboratories and are proven to be the most reliable and economical storage system for semen, embryo, biological samples etc. The capacity of these cryo Containers ranges from 3 litres to 50 litres. We usually stock the IOL(Indian OIL) brand. We also stock Taylor Wharton,Inox CVA and other esteemed brands.
The Dewars are available in 4 ltrs to 50 ltrs capacities and are by far the safest and most convenient storage vessel for Liquid Nitrogen in small quantities.
Features
Sturdy
Compact design
Light in weight
Portable
Lower evaporation loss
Longer holding time
Easy handling
Insulated and vacuum jacketed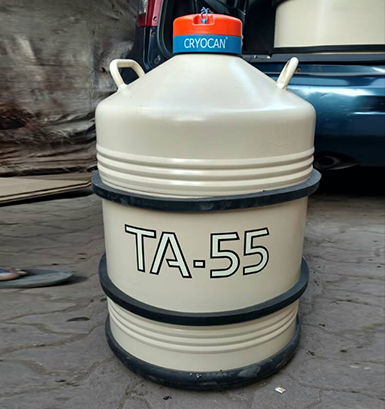 Our new focus is cryogenics
Liquefied gases, such as liquid nitrogen(lin),liquid oxygen(lox),liquid argon(lar) and liquid helium are used in abundant cryogenic applications. We supply these liquefied gases in liquid containers (cryocans),dura cylinders /porta cryo cylinders and dewars.
Gas Storage
At MGC we offer a solution for almost any cryogenic gas storage application on the market today.
Argon
Nitrogen
Oxygen
Helium
Carbon Dioxide
Packaging
Cryogenic liquids are shipped and used in thermally insulated containers. These cryogenic liquid containers are specifically designed to withstand rapid temperature changes and extreme differences in temperature.