About The Company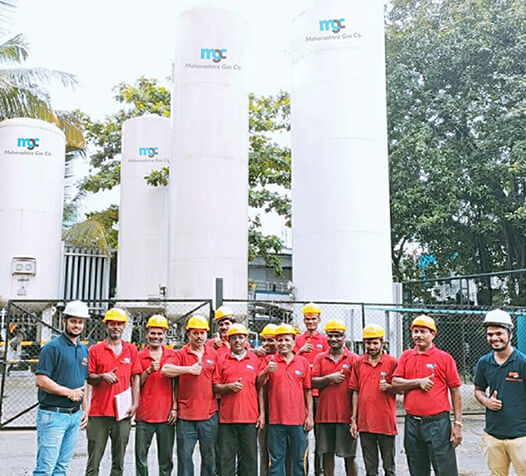 More Than Just a Gas Supplier
With Mgc , you get more than just a GAS Supplier - you get a gas expert and a partner. Since 1971, our mission continues to provide you with the most reliable, safest, and customer focused speciality gas service. Our aim is to develop lasting relationships with our customers understanding their needs, doing business with integrity and honesty, and demonstrating a passion for exceeding expectations.
Managing your Gas Needs 7 Days a Week
Since 1971 we are one of the pioneers in this Industry supplying a wide portfolio of Industrial & speciality gases, gas accessories and services to its customers in Maharashtra.
Until 2008 we compressed and bottled Oxygen cylinders for Boc India Ltd (Now Linde India Ltd)in our LCS (liquid compressing station) plant in Turbhe and not only that we are also one of the single biggest distributors of Industrial Gases of BOC India Ltd (Now Linde India Ltd). We use this experience of our organisation to your advantage every day, keeping our focus on operational calibre and non negotiable safety standards.
At Mgc, we are working together towards a common goal: being a one stop shop for all your gas needs. Our production plant in Turbhe, strategically located depots and dealers across Mumbai and Navi Mumbai , our wide variety of speciality gases and our delivery systems are all designed to help you get your gas customised solutions, when you need it. rest assured
At Mgc, we believe the right gas can help you get the best done. It promises less wastage and more productivity. That's why it's imperative for us to understand your application before we suggest a pure gas or a mixture gas so we can help you get the solution at a budget. Explore the Speciality gases, mixtures, equipments and accessories we offer and start getting more done now.
Why Us
Fleet of Vehicles for On Time Deliveries
Goodwill in the market since 45 years
Quality Control
Supply Chain Management - Supply Forecast
CRM - Customer Relationship Management to advise customers on new solutions and Cost benefit analysis
More than 15000 Cylinders
Infrastructure – Our Manufacturing plant, 3 Outlets and dealers across Mumbai and Navi Mumbai
Superior IT Infrastructure compared to Competitors.
Open seven days a week
Home
| © Copyright 2016, Maharashtra Gas Co.